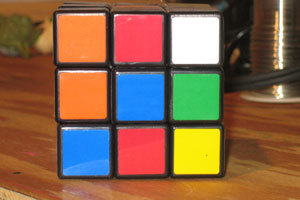 Checked fabrics
There are two different types of checked fabrics, one with square checks and the other with rectangular checks (sides of unequal length). In both cases, their cross-lines should meet at a garment's seams. So that the pattern also meets lengthways, make sure that the right and left sides are placed symmetrically and, when folding, that the checks are positioned on top of one another longwise, i.e. that the fabric fold lies exactly in the centre of a check or exactly between two checks.
NB: in the case of unequal checks, only one longwise check, not all stripes can be aligned. To prevent the fabric slipping, pin the fabric layers together in several places, and monitor whether the stripes meet long-ways and cross-ways.
All Burda sewing patterns intended for checked fabrics have a "check mark" printed on the pattern pieces. Cross-ways, the checks will meet at the seams when you place the front and back pattern pieces on the fabric so that the "check mark" lies on the same check stripe. To ensure that the checks will meet on the front armhole seams, pin the sleeve pattern piece on the fabric so that the "check mark" on the armhole lies on the same line of checks as the CHECK line on the front armhole. For two-piece sleeves, first cut out the upper sleeve section. Then place the lower sleeve pattern piece on the fabric so that the CHECK lines marked halfway up the sleeve lie on the same row of checks on both the upper and lower sleeve sections.
0 Comments
Talk to us!
Is there a term missing? Spot an error? We'll take care of it!