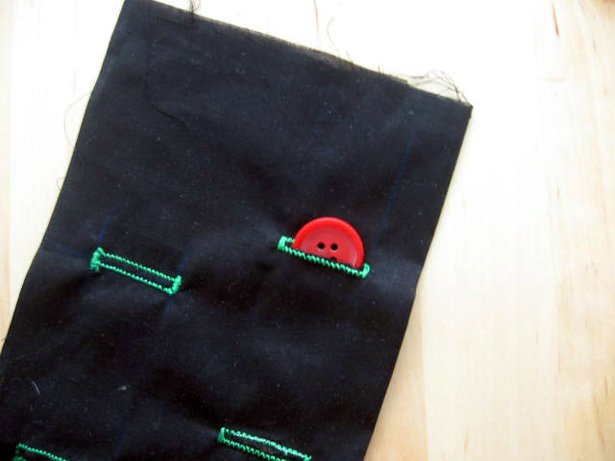 For women's garments the buttonholes are worked into the right front or the left back, and for men's garments they are worked into the left front or the right back. The buttons are always in the front section of any side fastening. Modern sewing machines have an automatic buttonhole foot and attachment that makes buttonholing quick and easy. Apart from machine buttonholing, you can also buttonhole by hand and as well as sew couture-style welted buttonholes.
Whatever type of buttonhole you decide on, you must keep the following points in mind:
With panels or panel effects, the buttonholes must be worked vertically into the centre of the panel. The buttonholes should be worked horizontally for all other buttonhole fastenings. To make sure that the buttonhole will be later located in the absolute middle, begin working the buttonhole at 2 mm in front of the centre.
The buttonhole positions are marked on the sewing pattern pieces but you must draw in the buttonhole length according to the size of your button: the rule of thumb is that the length of the finished buttonhole = the button diameter + button height (thickness).
Before working buttonholes into your garment, always do a trial run first on a remnant of the fabric but in the same situation as later on the finished garment (e.g. there could be several layers of fabric).
Aug 15, 2018, 03.14 PMby cotino
Talk to us!
Is there a term missing? Spot an error? We'll take care of it!