Tubular knitting
Added Jan 6, 2010
Zagreb, Croatia

Intro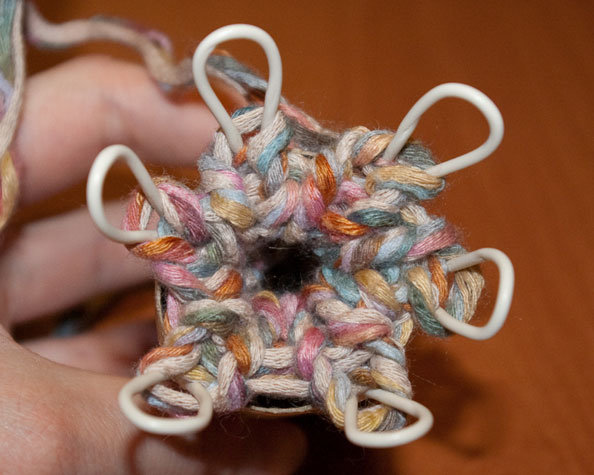 I saw long time ago a woman knitting with a plastic cup. It seemed very interesting, so I found out how she did it. Seems complicated, but, really, it is not. The point is to make a piece of knit with no seams, totally tubular. This is a very fast way to knit, easy too. Considering the diameter of cardboard tube, number of wire pieces and thickness of the thread, we get the density of knit pattern - if we take a thick wool thread on more wire pieces, it will be more dense, and if we use thin thread with only few wire pieces, the knitted area will be more see-trough, fish-net type. This is very useful if we are trying to make summer decorations, ie on linen bags - in the thread tube we can place a pebble, snails or sea-shells, and sew on some pearls.
Also, if you take a tube of a bigger diameter, you can knit a tube shawls, sleeves, leg and arm warmers... anything. You won't have any seams, which is prefered if you are a messy beginner person when it comes to this. This should ease it a lot.
In this description I will explain the basics and the way this method works, so I used a thick wool. You can play & combine, have fun!
Technique Materials
Scissors, pliers, cardboard tube, adhesive tape, wire.
Wool, crochet needle.