Sewing a Built-In Bra with Cups
Added Jun 13, 2012
by daughterfish
Brooklyn, New Yo...

Step 3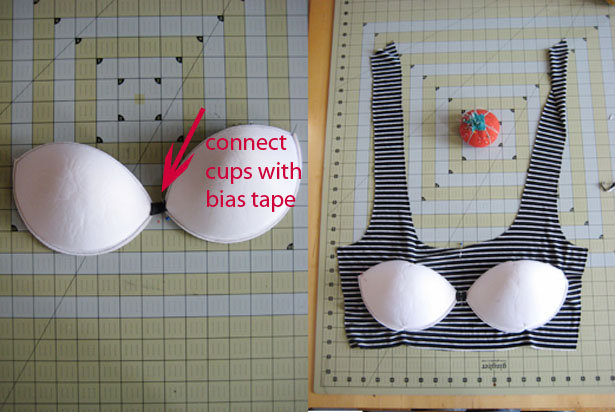 Connect the cups by sewing them together with a ½-inch length of bias tape. This will give your built-in bra more structure, and keep your girls from wandering ungracefully to either side of your shirt.
Lay your front bra piece on a flat surface, wrong side up. Position your bra cups, right side out, on the front bra piece. Make sure the bra cups are positioned so that they'll nicely fit your breasts once you have the bra on. (I always hold the cups up to my girls to get the right angle, and then mimic that placement on the front bra piece.) For this pattern, I positioned the top of the cups about 1 ½ inches from the top edge of the neckline (this includes the ⅝-inch seam allowance I added to the pattern).
Experiment with the placement of the cups and pin them in place. At this point, you can again hold the bra front to yourself to see if the cups are close to where they need to be.
0 Comments