Sewing a Built-In Bra with Cups
Added Jun 13, 2012
by daughterfish
Brooklyn, New Yo...

Step 1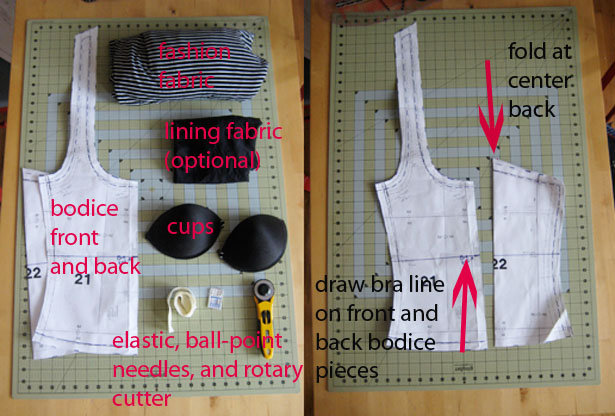 If you're making a tank (not a dress), you only need to print pages 7 (for the test square), 11-13, 17-19, 23-25, and 29 of the PDF pattern. Unmodified, this pattern is supposed to fit loosely; however, I modified the pattern so it's tighter (so the bra fits snugly). I would usually wear a Burda size 38 (US size 6); but I cut the pattern to a size 34 (US size 2), essentially shaving off about ¾-inch from each side of the front and back bodice pieces.
I made the back bodice piece even smaller, by folding it in 2 inches along the center back fold. This is because the front of the chest is larger than the back, which is particularly important when making a fitted bra. I took the extra sizing out of the center line, so that I wouldn't interfere with the side curve of the pattern. I added a ⅝-inch seam allowance to the pattern.
For the bra pieces use the same tank top pattern, but just use the top half portion. (I measured 7 inches down from the underarm of the front and back bodice pieces). Draw a line across the front and back bodice pattern to mark where to cut for the bra pieces.
0 Comments