Printing Patterns at a Copy Shop
Added Apr 19, 2007
By burdastyle
New York, New Yo...

Step 8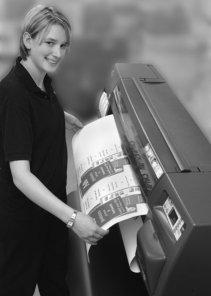 For Copy Shop Printing Option 3,
Burn the Pattern PDF onto a disc or flash drive, or e-mail it to yourself.
Go to the copy shop and and ask one of the employees for their assistance. Have CopyShop Guy/Girl load the file and set it up to print on a poster or large scale printer. Tell them the following special instructions:
PRINT ON 3-FT WIDE PAPER
USE CHEAPEST PAPER AVAILABLE- NOT GLOSSY OR POSTERWEIGHT.
DO NOT SCALE TO FIT. PRINT DOCUMENT AS IS.
May 15, 2011, 10.39 AMby maha2