potato starch
Added Mar 3, 2013
Lelystad, Nether...

Step 1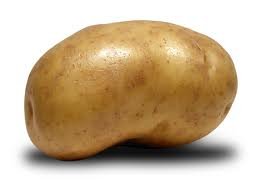 Potatoes
Knife
Water
Pan
Sif
Extra pan
Patience
Furnace

Cut away the outer skin of the potatoes. One need three or four potatoes. Don't wash 'm, but boil 'm in a pan with water.
When all soft and mushy, sif them. Don't throw away the water (nor potatoes) but collect the water in another pan. Let it rest for half a day. Remove the excess water gently. The goo on the bottom is your starch. Leave a bit of water in the pan and mix it with the starch. Let your fabric rest in it for half an hour.
The advantage is that it won't loose threads easily when cutting the fabric, but the disadvantage is that your clothes smell of potato and you have to reapply the starch after every time washing your clothes.
May 25, 2014, 10.50 AMby tupppi

1 Reply