Pleating/Ruching/Gathering Neckline in Tshirt
Added May 14, 2008
by jj1
Livingston, New ...

Step 3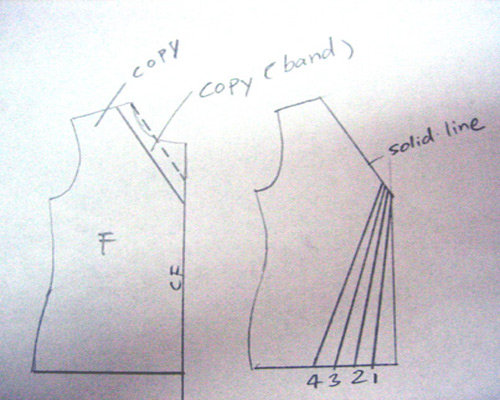 You can start with any T shirt pattern,check out Lydia t shirt pattern in
this website.
1. figure out V neck deep and wide ( dash line)
2. make your V neck band pattern( solid line) and copy it.
3. copy the bodice, at the neck line , copy from solid line down.
4. draw 4 lines. Note that the first line start from V point /on
center front. Try to draw lines close to the center front.
Check out the original top, you'll see that all the fullness around the hemline is close to the center front, it doesn't spread to the side seam.
0 Comments