One-piece Single Welt Pocket
Added Mar 28, 2010
by wzrdreams
Brooklyn, New Yo...

Step 7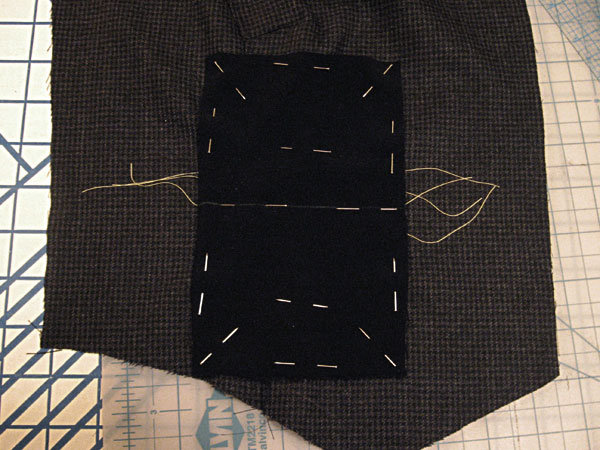 Using contrast fabric (this is crepe backed satin), cut out a rectangle that is 1" wider than the pocket will be (3"+1" = 4") and the length of the pocket bag plus the welt height and bottom seam allowance, multiplied by 2 (3"+1/2" +1/2"=4"x2=8"). This piece is the pocket bag and the welt all in one piece.
On the Wrong side of the pocket / welt piece, mark the horizontal center of this long rectangle (using tailors chalk if the fabric is slippery). With Right sides of garment and welt/pocket facing each other, place the center line of the pocket/welt along the bottom basting stitches of the welt placement.
Pin the pocket bag to the fabric all round the edges so that it does not shift when moved to the sewing machine.
(I know, this is a lot of information for 1 not so great photo..... I got kinda into sewing at this point and forgot about the camera - sorry!!)
ETA: The portion of the rectangle that is above the welt will fold down later to become the side of the pocket bag closest to the body. The bottom portion of the rectangle will fold up to become the welt and the side of the pocket bag that is closest to the front of the garment.
0 Comments