Nuts & Washers as pattern weights
Added Jul 8, 2013
by Linda74Sews
Livonia, Michiga...

Intro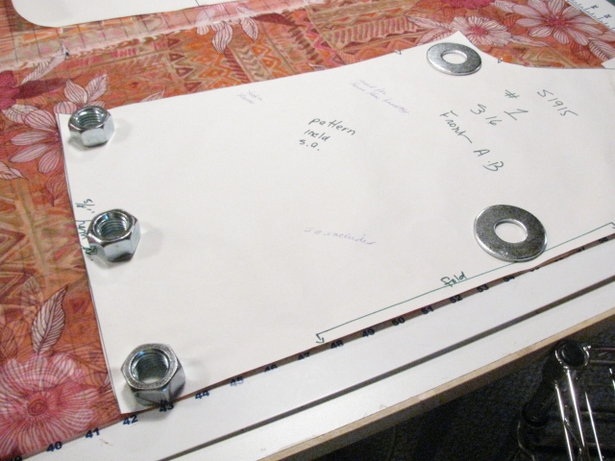 Sewers everywhere are using giant metal washers and nuts as pattern weights. And for good reason. They are so much cheaper than the commercial ones sold in fabric stores and work equally well. The problem is finding big enough ones. I found mine at my local Tractor Supply store where they cost only $1.67 a pound - that's over a dozen weights for less than $6 - uber cheap! The Home Depot/Lowes varieties are too small and much more expensive.
What are they good for? Aside from using them instead of pins when laying out patterns, they are especially great for securing slippery, feather light fabrics onto work surfaces. I begin by using them to secure the fabric on my worktable and to hold a grainline in place so patterns can be positioned accurately.
Use them instead of pins on lightweight fabrics to hold patterns in place and then cut out the patterns with a rotary cutter. This helps achieve more accurate, straight cuts and avoids the shifting and sliding that typically occurs with these delicate and often slippery fabrics.
Anytime you need to secure or hold a piece of fabric in place like for cutting a straight edge or measuring, these are great.
Keep them close by as you will be surprised at how often you will use them.
Technique Materials
metal nuts and washers sold at the hardware stores. Look for 2 inch diameter washers and 1 1/4 in wide nuts.
0 Comments