Multilingual Fabric Wiki
Added Mar 18, 2009
by gedwoods
Quebec, Canada

Intro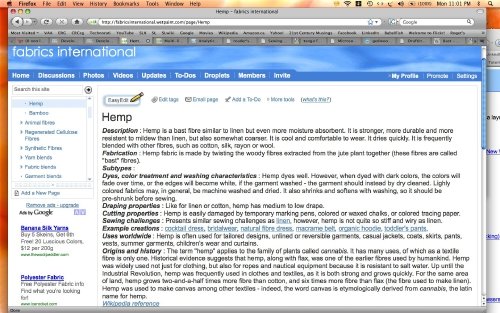 This seems a good place to put this information into permanent storage on the BurdaStyle site. The multilingual fabric wiki, which can be found at "http://fabricsinternational.wikifoundry.com", currently contains references to nearly 150 fabrics with detailed information on nearly 50 of these in English, and about 20 of them in French, to 40 styles of fabric print, and to over 300 types of garment. Each fabric reference page contains detailed information about the advantages and disadvantages of each fabric, an overview of how it is made, so that its properties can be better understood, dyes, color treatment and washing characteristics, draping, cutting and layout properties, known sewing challenges, example creations, worldwide usage, orgins and history, and a link to the main "wikipedia.org" wiki site, if relevant. For garments, links to online patterns, including free patterns, are also provided, and prints are showcased with photo samples. Finally, the wiki now also includes detailed information on eco-friendly fabrics, and provides garment sets such as Indian garments.
In addition, the site is constructed with a series of cross-linguistic linkages so that the material shown can be translated into and presented in other languages - linkages currently exist for French, Spanish, German, Italian, Russian and Japanese. These linkages are currently empty, however, except for the some of the French links. Sewing enthusiasts with knowledge of other languages who are interested in helping are requested to sign on to the wiki site and help us develop the translations.
The wiki has been extended to include a list of online fabric stores that have been recommended by the BurdaStyle membership, the online location of free patterns, a list of online stores for eco-friendly fabrics, and other lists of relevance to the do-it-yourself sewing community.
The fabrics international site has been initiated and organized in response to a need expressed within the BurdaStyle community, and aims to help do-it-yourself sewers, whether beginners or professionals, better understand the choices and uses of fabrics, prints, and garments.
0 Comments