Making Gathers
Added Jan 22, 2007
by stacysews
Wichita, Kansas,...

Step 1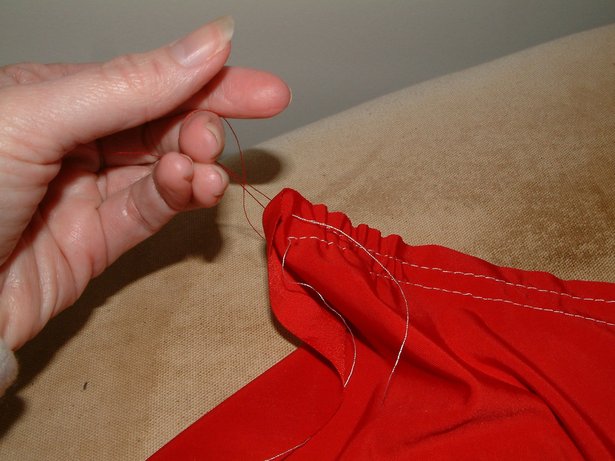 For this tutorial, I've used white thread for the top stitching and red for the bobbin thread so that you can easily distinguish between the two. However, on your garment, you'll want both threads to match.
Step 1: Using the longest stitch on your sewing machine, sew between * markings at the seam allowance (5/8") and again 1/4" away from the first stitching. Make sure that you leave at least 3 inches on the threadtails, you will need them in the next step.
Step 2: Pulling the bobbin threads only, slide the material down the thread until material is gathered evenly across the garment.
Step 3: Check to see if the material has been gathered enough by placing the diamond insert over the top - raw edges together. Continue gathering until the top is the same size as the diamond insert and pin - making sure that the gathers are evenly distributed. Sew the insert to the gathered top in seam allowance (5/8"). If any gathering threads are visible after stiching, remove them using a seam ripper.