Invisible Zipper Tutorial - Tips and Tricks for Stellar Zips
Added Aug 28, 2010
by sunnilj9
Cedar City, Utah...

Step 8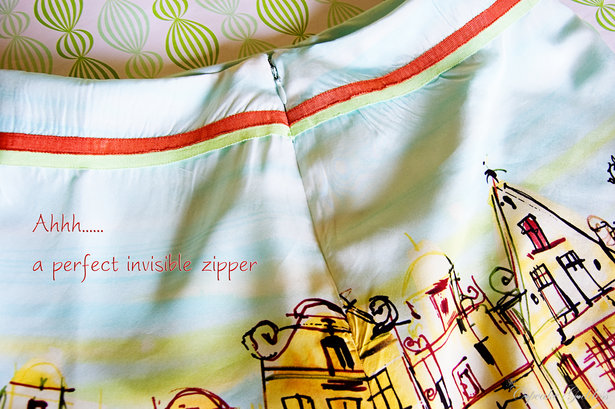 A few things to consider:
I have some very strong opinions on invisible zips. Hear me out. If something I say doesn't work for you, throw it out, but if you've had bad luck with these cursed little buggers then listen up! I'm tossing all I was taught about invisible zips out the window and relying on what I know has worked for me. DO NOT press open the invisible zipper (I mean that part right before you sew it in, you know, all those instructions that tell you to open up the zipper and then press the coil open. Don't do it). DO NOT put your iron directly on the coils either. I say these two things for two reasons. Every time I've pressed open the invisible zipper teeth, the coils have been stitched into the fabric and then they rip the fabric and have a hard time zipping up. Every time I've put my iron directly on the teeth coils to press out the wrinkles in the zipper, the zipper has come apart AFTER I stitched it into the garment and while I was wearing it. Yeah, just rips right in the middle of the zipper too. Rips right apart, I tell you! I've done this more times than I care to admit. Don't do it! If you have to press an invisible zipper, only press the tape.
A few more things. Invisible zippers have to be stabilized, in my opinion. They are so likely to warp. By that I mean that they bubble or the bottom jets out and looks really funky. Stabilize the zipper opening with the organza, tricot, or interfacing. Mama said. Also, I mentioned something about a hook and eye. These are not intended to make you tear out your hair sewing them on, though sometimes they do just that. They actually give the zipper strength enough to keep from ripping apart. Hook and Eyes allow the zipper pull to pull up smoothly rather than catching fabric in its wake. Use them.
That's about all I have to say about invisible zips. See what I mean about them being rotten little things? All these rules and for what? A zipper you don't see, that's what! I admit, I do like the way they look. Just be careful. These puppies are not for the faint of heart!
For more on my sewing adventures, visit my blog: http://www.thecupcakegoddess.com.
xoxo,
Sunni
The Cupcake Goddess
Jan 11, 2011, 07.59 PMby bellab

Sep 4, 2010, 04.55 AMby 2beeso

Aug 31, 2010, 04.39 AMby roarah

Aug 28, 2010, 02.40 AMby nessys