Hanger Shoe Storage
Added Jan 12, 2010
by 5294sandras
Toledo, Ohio, Un...

Intro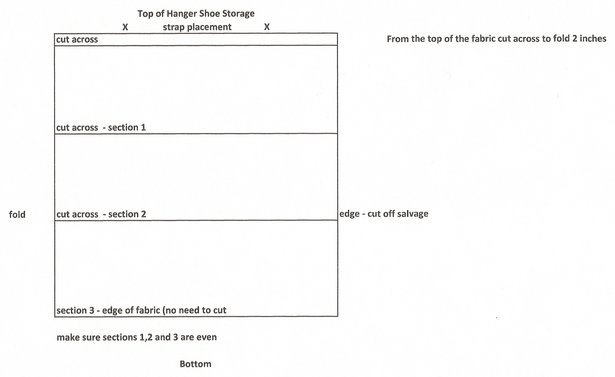 Instructions for Hanger Shoe Storage

You will need one strong heavy duty hanger, 1 yard of sturdy upholstery fabric and thread. To make the handles use scrap fabric larger enough to make two handles. I used cozy flannel for my shoe holder.

Cut two pieces of fabric 12 inches long and 3 inches wide. Fold each piece in half and press. Fold each edge ¼ of an inch and top-stitch along the folded edge.

Fold the fabric in half, wrong sides together.


Top of Hanger Shoe Storage
X strap placement X
cut across From the top of the fabric cut across to fold 2 inches
cut across - section 1
fold cut across - section 2 edge - cut off salvage
section 3 - edge of fabric (no need to cut

make sure sections 1,2 and 3 are even

Bottom

Turn inside out, pin and sew the side and bottom edge.
NOTE: You can double stitch if you want the stiches to be stronger.
You can also stitch the top and bottom of each section or even add fringe to decorate.


Turn the fabric so that the right side is out.

Sections 1 and 2 - top-stitch the bottom of each section.

Determine the center of the Shoe Holder. Starting at the top/center of section 1,
pin and stitch down the center to the bottom of the bag. This will create the
pockets for 6 pairs of shoes.

STRAPS:

Fold the straps over the bottom of the hanger.

Insert the ends between the top edges of the bag. (Three inch section)
Fold in the top edge or add ribbon etc. to finish the top edge.
Sew through the bag and handles. At the bottom of the 3" piece - sew the
bottom through the fabaric and the handles.
Technique Materials
fabric, thread, hanger
0 Comments