Grade a Sleeve Pattern to a Smaller Size
Added Dec 28, 2007
By burdastyle
New York, New Yo...

Step 2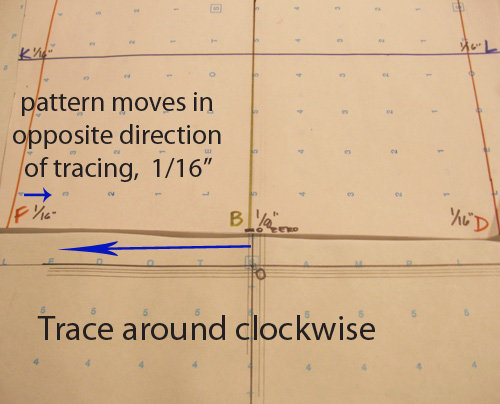 Establish the appropriate grade by following the Step 2 in the Grading a Bodice How To, but the grid is a bit different this time, as is the piece. This time, the zero point is on the bottom of the sleeve, in the center where the grainline meets the hem. We still will move the pattern around clockwise starting at zero, but instead of moving it in the direction we are tracing at the points where the grade lines are, we move the pattern in the opposite direction of our tracing, to make it smaller. This means the lines on your grid will start going to the right of zero, and below zero.
Once you have calculated the overall grade, find the allocated grade by dividing the overall grade by four, the same as in the Bodice How To. Then, to distribute the allocated grade with each of the lines illustrated in step 1, you must use the formula written below.
A-B= 1⁄2 of allocated grade
C-D= 1⁄4 of allocated grade
E-F= 1⁄4 of allocated grade
G-H= 1⁄4 of allocated grade
I-J= 1⁄4 of allocated grade
K-L= 1⁄4 of allocated grade
Mark these measurements on your pattern. *These formulas come from a calculation of all the parts of the pattern body/etc…. and is a bit difficult to explain. We will overload you with this explanation in the following How To.