Grade a bodice pattern to a larger size
Added Dec 7, 2007
By burdastyle
New York, New Yo...

Step 1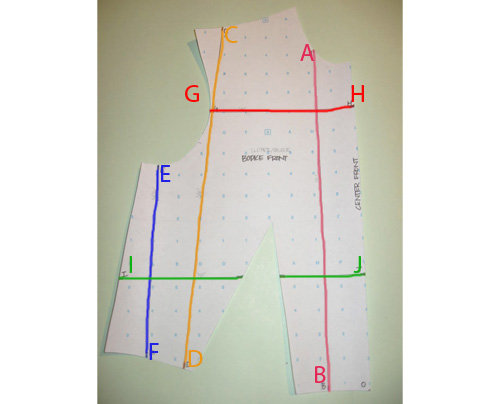 To grade a pattern means to manipulate an existing pattern at various points in order to make it fit a smaller or larger size. Each pattern piece has several vertical and horizontal lines in areas where the body generally gets bigger or smaller, as the sizes change. For a bodice, they are illustrated above:
A-B: Front/Back neckline to waist
C-D Shoulder to waist
E-F Armhole to waist
G-H Center Front/Center Back to armhole
I-J Center Front/Center Back to side seam
(Above is a bodice front. The same lines are valid for a bodice back. ) The vertical lines should be parallel to the CF or CB, and the horizontal lines should be perpendicular to the CF of CB.
**Make sure your pattern is WITHOUT seam allowance. If it has seam allowance, remove it.**