Fiskars Unzipped--Super Easy Turning Trick
Added Feb 25, 2011
by redredreeves
Yelm, Washington...
Intro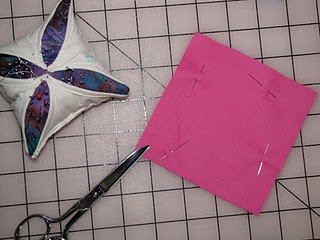 Hmmm. That title could be misconstrued....
Anyhoo, anytime you make a stuffie, pillow, lined pocket, etc. etc., You must at some point turn it right side out and sew up the opening you turned through. While this is not really that hard, my grandma taught me a neat little trick that I will share with you!
I have 2 squares, lined up right sides together, and pinned.
Now we are going to sew around the perimeter as you normally would, but start from the edge of the fabric, perpendicular to your seam line. It is helpful to reduce your stitch length or backstitch.
Sew in the same distance as your seam width. (i.e. 1/2" in for a 1/2" seam)
Leaving your needle down, turn your pocket so that you are now sewing straight along your seam line. Return to your normal stitch length.
Continue around the perimeter.
When you reach the end, leave your needle down, turn your work 90 degrees again and sew straight off of your pocket. Time to reduce your stitch length as you do this, or backstitch.
This is what your little guy should look like.
See how the seam goes straight off the pocket? It makes it super easy to turn.
Now, turn your pocket right side out.
Use a chopstick or such to push out the corners gently.
See how the seam allowance just tucks right in? Great job.
Now, go ahead and sew your pocket on your dress or slipstitch your pillow (or stuffie) closed, or whatever you were gonna do with it!!
This is by no means an expert tip, but it makes my life easier!! Happy Crafting!
0 Comments