"Fiskars Unzipped" Sewing a tutu
Added Feb 15, 2011
by jennif
Turku, Finland

Intro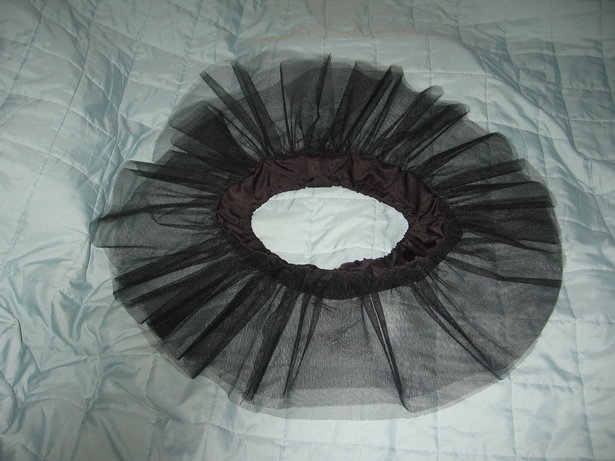 Fiskars Unzipped
Measure your waist on the widest part and see that you can move the measure tape over your waist.
Add three centimeters looseness. Cut the lining fabric about 20 centimeters long and a bit wider in the hem than on waist.
Sew the back seam. Sew alley for the rubber band.
Draw markers about 7 cm below the waist. You start with the outest and upper tulle layer here right sides facing. The longest tulle part (the biggest circle) starts here.
Fold the tulle fabric to four layers as you were cutting a normal circle skirt. Cut four circles. The biggest radius is about 75 cm, second is 55 cm, third 35 cm and fourth 15 cm (depending on your fabric). Cut the circles and cut the circles open on one side. Sew the three circles together as it was a big circle (see the picture 7 and 8). When you start sewing the tulle to lining fabric remember to start with the lenghtest part in the back side seam.
When sewing wrinkle the tulle all the time a bit by hand under the presser foot. See that the lining fabric stays straight so that it doesn't get more narrow than your waist.
When you have sewn the fiirst tulle layer, the second comes about one centimeter under the first one. Remember to keep the fabrics all the time right sides facing. This amount of tulle should result to three layers. It depends a bit of how much you wrinkle the fabric.
Then measure and attach the rubber band on the waist. Neaten the hem if you want to.
Technique Materials
Tulle, lining fabric, rubber band, thread
0 Comments