Fancy Buttons (and Tamed Satin Back Opening!)
Added Dec 22, 2010
by magdamagda
Romania, Romania

Step 1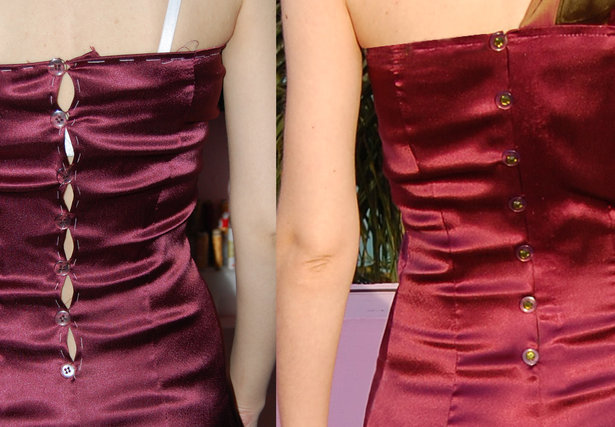 This is a shot I took while My Secret garden was in progress (-left, the final look-right)… My critical half commented on it needing improvement… I didn't know what to expect while trying it on, so I was like arrrrgh so now what?! The energy wasted on admitting something's not right is just so overwhelming sometimes!:)) It makes the actual "correction" business seem like a trifle! Long story short, this is what I did: I went to bed.
The night is supposed to be the best adviser, right?
Next morning I cut a strip of cotton "stubborn" interface and iron-stuck it to the wrong side of the seam allowances, on both sides of the middle back opening. I attached it to the seam allowances and not the main parts because working on satin directly, it would have shown where the strips end and some wrinkles would have begun at the same place! I'm really pleased all this was possible and the buttoned opening came out so neat!
0 Comments