Easy way to trace Burda magazine patterns and add seam allow...
Added Jun 7, 2013
by debycoles
George Town, Cay...

Step 9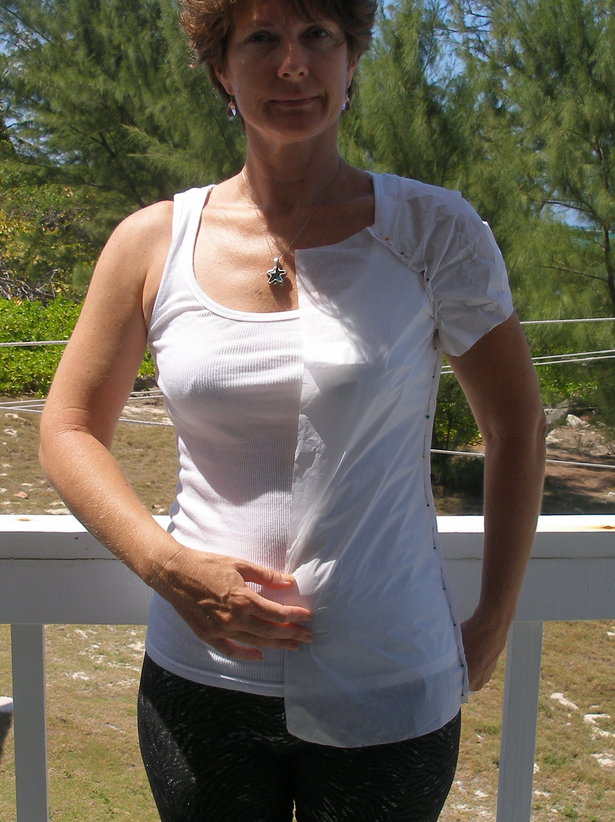 Now we want to quickly test that we have the correct size before cutting out your fabric, and with this medical paper which is much stronger than the usual pattern tissue paper, you can 'tissue fit' the pattern to your body to see approximately how it might look/fit.
You can either use the pattern pieces as they are and make up half the garment, or make copies of the pieces you need two of, and make up a complete mock up – its up to you. Pin along the stitching lines, pin any darts or pleats and try it on. Match up center front to your belly button, center back to your spine. If its not a bad fit then you have the correct size traced out. If its massive or too small then you know that you need to trace out a different size pattern or grade from one size to another.
This will also allow you to test waistline placement, dart placement, neckline placement, approximate skirt length etc. All before cutting into any fabric, finding it's terrible and having to start all over again.
This paper is strong enough that you can even sew together along the stitching lines you traced with a long basting stitch to test the fit, and then unpick it again afterwards to use as the flat pattern on your fabric!
My pattern is a t-shirt made in a knit fabric so it is supposed to be fitted, but I think its a little too snug around the bust, and I'm also going to lengthen the arms a little, lower the neckline and probably take some off the length.
(You can visit So Sew Easy for the full tutorial including additional photos and links. http://so-sew-easy.com/tracing-burda-patterns/)
0 Comments