Dress Form
Added Feb 1, 2007
by mirela
Hollywood, Flori...

Step 1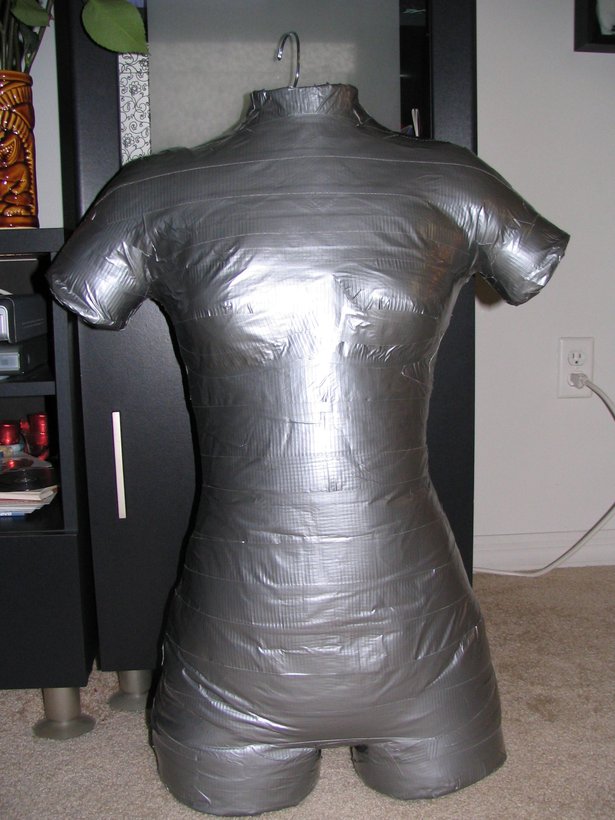 Create your own clone as a duct tape dress form, follow these quick instructions:
(you will need another person helping out)
1. Wear a t-shirt you no longer need.
2. Apply a row of duct tape at waist line, above the bust and hips.
3. Continue applying horizontal tape all over, not too tight, not too loose.
4. Apply another layer of tape, vertically
5. Finish it off with a horizontal layer, make it neat.
6. Cut in the back with old pair of scissors, from neck line down, but not all the way, so that you can take it off.
7. Insert a hanger that fits the shoulders and stuff it
8. apply duct tape over the back cut.
9. You can place it on a PVC pipe, or hang it from the ceiling and dress it up in cotton/lycra jersey.
More detailed instructions:
http://www.taunton.com/threads/pages/t00002.asp
My version:
http://mirelap.wordpress.com/2006/09/29/form/
The whole process takes around 3 hours max. This is useful if you need a cheap dress form for your body, or create one for a frequent (or more challenging body type) client.
May 28, 2010, 01.09 PMby aleah

2 Replies