Drafting a Princess Line Dress Pattern from the Basic Bodice...
Added Mar 4, 2009
by gedwoods
Quebec, Canada

Intro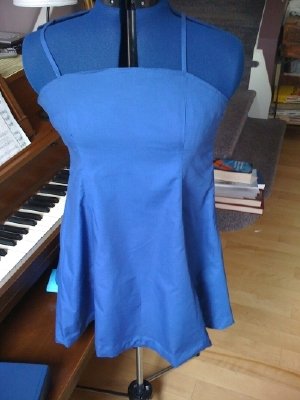 Here I present the procedure for developing a princess line dress from the Basic Bodice Block. The princess line introduces all the shaping needed for the bust into the seam running through the bust point so that no additional bust darts are needed. It should be remembered that the Basic Bodice Block is not really a finished pattern, but rather a kind of root template from which many different patterns may be derived. This "how-to" gives one possible variant that can be constructed from the Basic Bodice Block. As for all my "how tos", there is lots of room for variation and I try to suggest where these opportunities arise. Also, as indicated for the instructions on drafting the bra, you should probably construct a muslin shell or toile before committing to using the final fabrics if this is the first time you are using the Bodice Block.


This procedure was developed using the following two references as source material :

Winifred Aldrich, Metric Pattern Cutting for Women's Wear, 5th ed., Blackwell Publishing: Oxford, 2008, 215 pp.

Norma R. Hollen and Carolyn J. Kundel, Pattern Making by the Flat-Pattern Method, 8th ed., Prentice-Hall Inc.: New Jersey, 356 pp.
Technique Materials
pencil, paper, scissors, French curve (or dinner plate!), ruler, scotch tape.
0 Comments