Developing A Simple Bra Pattern from Basic Bodice Block
Added Feb 21, 2009
by gedwoods
Quebec, Canada

Step 8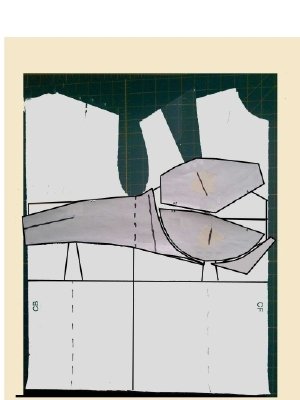 In addition to switching the vertical darts for a horizontal one, we have also drawn a circular shape (hemisphere) through the lower piece and cut along this line. The circular section begins 1 cm (2/5") forward of the top of the forward front seam.
This is a design choice - from the basic bra pattern shown in the previous step, several possible variations in bra design are possible. In this example, we are developing a design that gives a fair amount of support to the breast without, however, using an underwire.
Note that this results in four pieces - the back strap, the lower cup, the upper cup and the frontspiece.
0 Comments