Detachable Collar
Added Dec 26, 2012
By burdastyle
New York, New Yo...

Step 7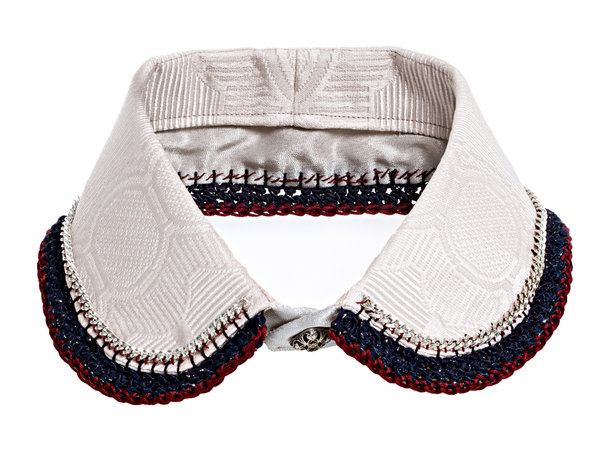 Materials:
Jacquard fabric (upper collar) and satin (under collar), each approx. 20 x 60 cm (8 x 24 ins). Fus­ible interfacing. 1 button. Sewing thread. Black lurex yarn ("Festa" from Lana Grossa). Red embroidery floss (Anchor). Crochet hook in correct size for yarn. Black buttonhole thread. Silver chain, 0.50 m (20 ins).
Instructions:
Sew collar, see step 4 (collar with black lace).
Use buttonhole thread to work buttonhole stitch along outer edge of collar, inserting needle 5 mm (3/16 in) deep and spacing stitches 5 mm (3/16 in) apart. Use lurex yarn to crochet 2 rows of double crochet (dc) along outer collar edge, working the first row In loops of the buttonhole stitches and working 2 dc in each stitch along curves. To finish, work 1 row of dc with red embroidery floss. Hide yarn/thread ends. Sew chain to collar, 2 mm (scant 1/8 in) from outer edge.
0 Comments