Detachable Collar
Added Dec 26, 2012
By burdastyle
New York, New Yo...

Step 6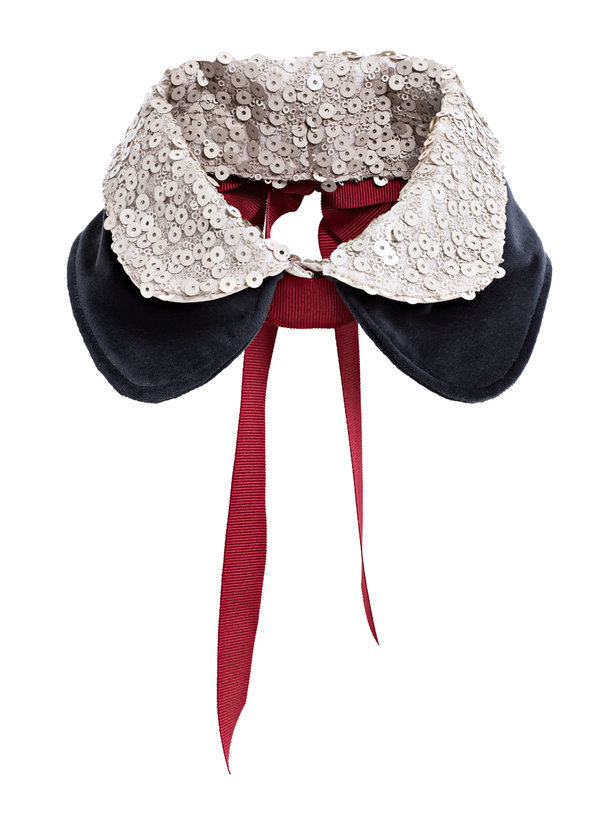 Materials:
Satin, approx. 25 x 60 cm (10 x 24 ins). Sequin fabric, approx. 15 x 60 cm (6 x 24 ins). Velvet, approx. 25 x 60 cm (10 x 24 ins). Petersham ribbon, 2.5 cm (1 in) wide: 2.50 m (2 3/4 yds). Fusible interfacing. Sewing thread.
Instructions:
Cut collar piece twice from satin and once from sequin fabric, on the fabric fold. Iron interfacing to wrong sides of satin pieces. Baste sequin piece to right side of one satin piece (wrong side of sequin piece facing right side of satin) and treat as one layer of fab­ric. Sew collar, see step 4 (collar with black lace), omitting buttonhole and button. Pin peter­sham ribbon to attached band, with ends extending evenly long, as ties. Edgestitch ribbon in place. Approx. 4 cm (15/8 in) from one front end of band, work a 2.5 cm (1 in) long ­vertical slit (like a buttonhole). Trim ends of ribbon at angles.
For the velvet collar, use the same pattern piece, but trim away the extending ends of attached band. Cut collar piece 2 times from velvet. Iron interfacing to wrong side of one ­velvet piece.
Lay velvet pieces together, right sides facing. Stitch together along outer edges. Trim seam allowances. Turn collar right side out and press. Topstitch 5 mm (3/16 in) from seamed edges. Finish inner edges together. Pin velvet collar to petersham ribbon on attached band of satin collar and sew upper edge in place by hand.
To wear the collar, overlap front band ends and run one end of ribbon up through the slit. Lay ribbon ends toward back and tie in a bow.