Detachable Collar
Added Dec 26, 2012
By burdastyle
New York, New Yo...

Step 4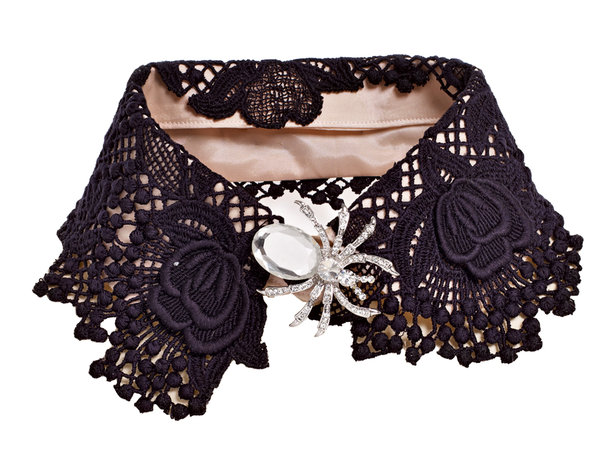 Materials:
A piece of cotton fabric, approx. 25 x 60 cm (10 x 24 ins). A piece of guipure lace fabric, 15 x 60 cm (6 x 24 ins). Fusible interfacing. 1 button. 1 brooch. Sewing thread.
Instructions:
Cut collar piece 2 times, on a fold. Iron interfacing to wrong side of one piece. Lay collar pieces together, right sides facing. Stitch edges together, at seam allowance width from edges, leaving approx. 5 cm (2 ins) open on inner edge of attached band, for ­turning. Trim seam allowances, trimming diagonally across corners. Turn collar right side out and press. Sew seam opening closed. Topstitch inner edge at width of band (approx. 3 cm/ 11/4 in from edge). Fold attached band onto collar and press. Work buttonhole in one end of band and sew button to opposite end.
Pin lace fabric to collar so that lace extends past front curves and past outer edge. On these edges, trim lace along edges of lace pattern. Fold lace over fold edge of collar and pin to ­attached band. Sew lace to collar. ­Attach brooch to right end of band.
0 Comments