Converting your patterns into a digital PDF
Added Apr 11, 2010
By burdastyle
New York, New Yo...

Step 4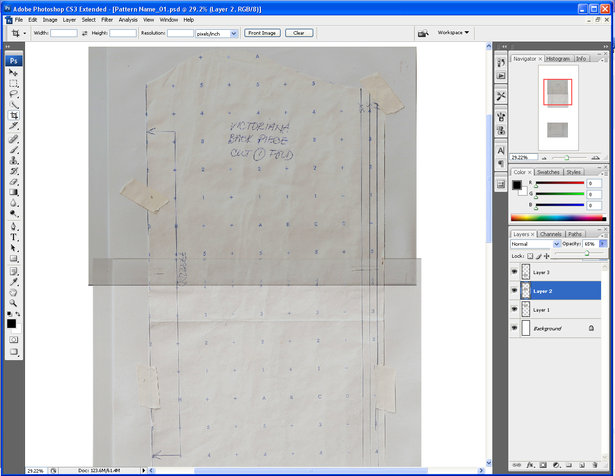 When you have all your images in your base file, you need to put the pattern piece back together. This is where the markers you added to the pattern before you scanned it will come in handy. Each time you paste in a piece of your scan, a new layer will be created. You can then modify each layer's opacity to make sure the pieces are aligning correctly. If you don't have the Layers window on your screen go to Window>Layers. Then select the layer you want to modify and on the top of the menu you can slide the opacity control as you need. If you are working on Illustrator, you will need to open the Opacity control as well. Go to Window>Transparency.
There are several tools that will make this step easier like:
*Deleting certain pieces of your images to match perfectly with the others. Use the select tools like Rectangular Marquee, or the Lasso Tool to select the area you want to delete and then click hit delete or go to Edit>Clear.
*Rotating the pages to match properly. Select the image and point to the corner where you will see an arc with arrows. If you click and move the mouse, the image will rotate. You can also go to Edit>Transform>Rotate.
0 Comments