Constructing the Basic Bodice Block
Added Feb 22, 2009
by gedwoods
Quebec, Canada

Intro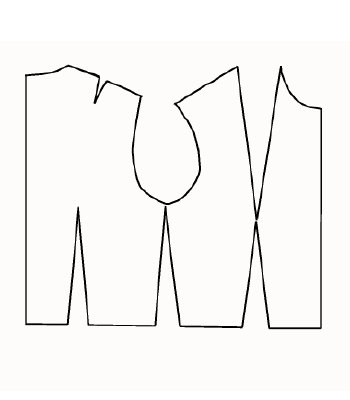 An alternative method of creating garments to using patterns constructed in standard sizes, is to construct a pattern using custom measurements - this results in a garment with a near-perfect fit. The disadvantage is that all the pattern manipulation must be done by the home sewer. However, a great deal of creative variation is possible from such a custom-made pattern using even minor changes. Here I present a step-by-step method to construct the close-fitting basic bodice block. The term "block" is used to describe a pre-pattern template - additional manipulation is required at the end to generate a pattern (e.g. changing the bust dart, adding seam allowances, etc.). This version of the basic bodice block is used to support the development of the bra pattern posted previously, but can also be used for a variety of other garments. You may also want to look at the companion "sleeve how-to" (http://www.burdastyle.com/howtos/show/1714). The close-fitting variation has less ease introduced than other blocks.
The process involved is called "drafting", but the term should not cause worry. Each of the steps shall be described in detail so that the beginner can follow the method without previous drafting experience. To follow the steps, you will need a ruler, preferably a transparent ruler about a meter (yard) long, perhaps a smaller ruler, a sharp pencil, and a French curve (although a dinner plate can do in a pinch!). You will also need a calculator, and a set of body measurements.
A word about the body measurements needed. The construction method requires the bust measurement, the waist measurement, the shoulder length, the nape to waist length, and the neck size. In addition, the back width is used along with the armscye depth, the chest width and the bust dart width. However, these latter four measurments may be estimated from the former set of measurements. In fact, using only the bust measurement, the nape to waist length and the neck size, the remainder of the measurements can be estimated. However, the more measurement estimation goes on, the less perfect the resulting bodice block will fit. It is better to use more measurements than less, but the construction process can proceed with less measurements.
Finally, the construction process described will work for standard body types, but may need additional adapting for higher bust sizes (above 45" (115 cm) and large bra cup sizes (D and above).
This block construction method has been adapted from the following reference : Winifred Aldrich, Metric Pattern Cutting for Women's Wear, 5th ed., Blackwell Publishing: Oxford, 2008, 215 pp.
Technique Materials
paper or cardboard, ruler, pencil, calculator, French curve (or dinner plate), set of body measurements, compass (optional)