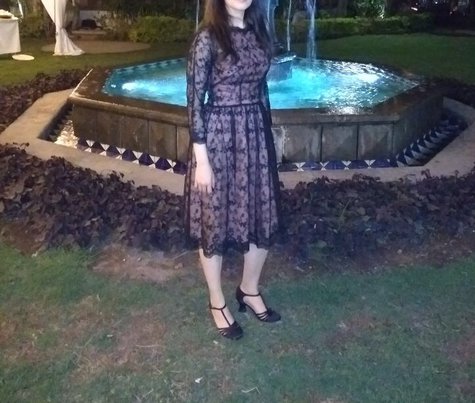 I did this double project two years ago, but I didn't have the chance to wear it until yesterday, I was invited to my uncle's wedding so It was the perfect occasion to wear it.
I took an intensive one year sewing course from 2015 to 2016, It was during that time when my grandma gave me her civil marriage dress, a beautiful pink silk dress she wore in 1963, but it was in a terrible condition.
My sewing teacher recommended me to restore it. An art restorer helped me to clean and sanitize the dress, because it had mold and it smelled like humidity. Then I replaced the rusty zipper for a new invisible zipper, and the arm holes bies tape was replaced too.
Even that the mold infestation was controlled, the restorer couldn't remove the mold stains, so my teacher suggested me to sew an outer tulle dress to cover them.
She helped me to design it, I wanted something vintage to match my grandma's dress, so it has all the 50's elements we could make: 3/4 kimono sleeves with underarm gussets, front and bust darts, and we cut the scalloped edge of the tulle to trimmed the neck line and the edge of the sleeves. The skirt is a simple rectangle to use the scalloped edge of the fabric as the hemline.