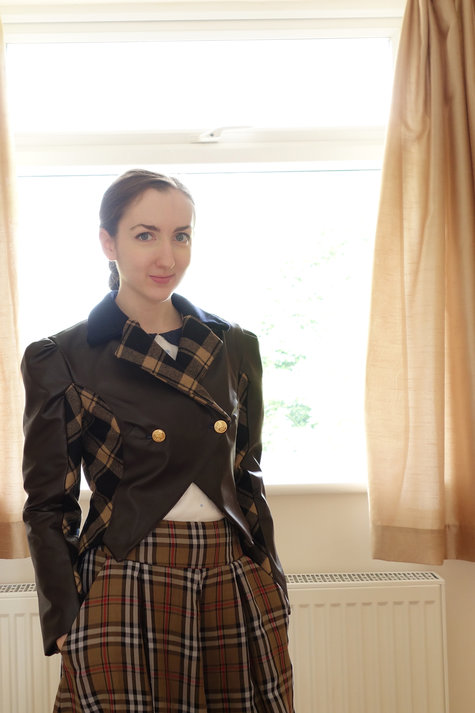 Several months ago I uploaded the toile of this design to BurdaStyle and have only just got the real one (this one) back from college now that the term has ended.
This jacket was designed as part of our Uniform 2020 project and made as part of the production pattern cutting module. It is a riding jacket with some design features suitable for the equestrian. The armscyes are cut higher than most jackets' so that you can raise your arms to mount the horse. The front has a high opening so that the jacket won't get in the way while you're riding.
It's made entirely by machine except for the hand-understitching and sewing on the shank buttons.
The difficulties which arose are mainly due to the fabrics being such different thicknesses. (I wish there were a fabric shop near me so that I could see and feel the fabrics without having to wait for samples and then order the fabrics and wait for them to arrive!) The other difficulty was that I don't have a really big cutting table so when I was block-fusing the interfacing to the check wool the fabric shifted off-grain so I couldn't match the check!
The final, and possibly worst difficulty was the matter of the buttonholes. (I seem to be cursed with buttonholes for college projects.) They look terrible! But that is what I get for sewing late at night and not doing test buttonholes.
I managed to solve on problem (sewing the buttonholes on the underlap instead of the overlap) by cutting out that section of the under-lap and replacing it with a diamond-shaped piece of check wool, which I think looks pretty good! :)
Something else I will remember is to really work out the turn-of-cloth allowance for collars (as shown at Sherry's blog ) because the collar fabric on this jacket is really thick and I need another 1cm of allowance!
I still find the bagged lining method amazing, especially when it comes to doing the sleeves. It's like magic!
You can read more about this jacket, and see more pictures on my blog