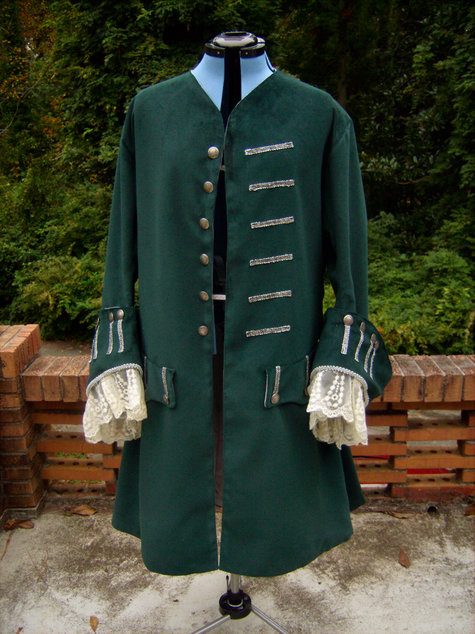 I was so excited to make this coat for my client, David! I had made this coat (Simplicity 4923) once before for myself, but it had been one of my very first sewing projects: so I was eager to try it again, with so much more experience under my belt!
I got to come up with the design by myself, with David's preferences in mind. This project took me about 3 or 4 days to complete (from pattern cut-out to finish). I used a dark green cotton-velvet upholstery fabric for the shell. The lining is light grey cotton fabric. The cuffs are embellished with silver gimp trim "buttonholes" and silver gimp braid at the bottom edge. The cream embroidered mesh lace at the wrist is pleated a few times and set in to the cuff. There are 20 total silver metal buttons on the coat.
I felt pleased with the way it ended up, especially since the first time I used the Pirate Coat pattern I barely knew what I was doing. This time was MUCH better!