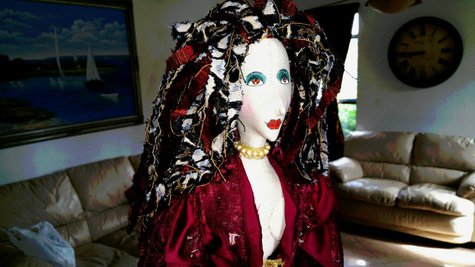 After so many hours of intense Halloween sewing labor, I decided to go back to my Divas production. I did my research on Boudoir Dolls, felt in love with them and I gave it a chance. I found a suitable pattern on the web. As soon as my pattern arrived, I rolled my sleeves up and began my project using scraps and remnants of previous projects.
I went beyond my comfort zone. I have never painted a face before. I was super scared to use acrylics and brushes, but I was surprised how it came out. Her hair has a lot of strips of two different fabrics to create volume and drama and she has a hat too, but I don't want to ruin her hair. She has big breast and the blouse is open to show them.
My Diva is very tall and has some other nice details like bloomers, petticoat, black stocking (according to the designer Boudoirs dolls always worn them) and shoes, and the best of all, she is able to sit by herself.