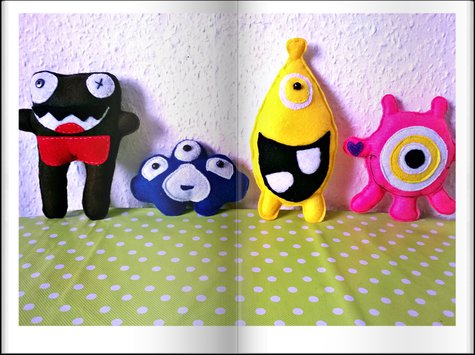 Small project for my son.
I have included all the monster patterns in a downloadable form, please note that the patterns are only intended for guidelines. I have struggled to draw them in Microsoft Paint…yes, I'm pretty oldschool.
I would suggest to buy quality felt, the ones I used are from my local brick-a-brack store and not the best of quality so it was difficult to keep even lines due to stretching and fraying plus the colour scheme was extremely limited. Also, it is advised to invest in to proper felting scissors with sharp pointy end.
These are my first felted toys so I will have a lot to learn…eg.: stitching by hands and cutting even lines…ooops!
My son is 5 months old and he loves tasting them…
I also stuffed some little craft bells in the monsters, babies love rattling sounds :)
It took some time to finish them as sonny guy is really demanding and I have no nanny to help out.
Note:
-please do not use small beads, I did and I have to watch him not to bite the small eyes off and eat the beads. Child safety first!
Proof of the pudding-Happy Kiddo!
Ps.: I made the baby too :P