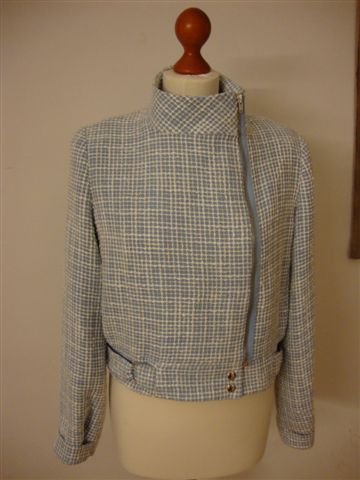 Initially I used a burda-pattern for this jacket, but than ended up doing so many changes to the pattern, that i may as well say, it is my baby now……….
This jacket is for my friend Martina again, and as she really loves a more masculine style, but i do not see her in all those men's cloths, we ended up doing a compromise: a men's rocker-jacket in a chanel kind of material (the material is to die for: silk and woll blend!!)
For the first time i used these kind of buttons in silver (you have to hammer them into the material and i have to say, that i do not like them that much, but i think, that they fit just great to the kind of look we wanted to achieve.
the lining is to different colors of silk…..
this project took me, due to the many alternations on the pattern and due to the way i wanted to have the look for a felt eternity, but now i am very pleased with it. What do you think??