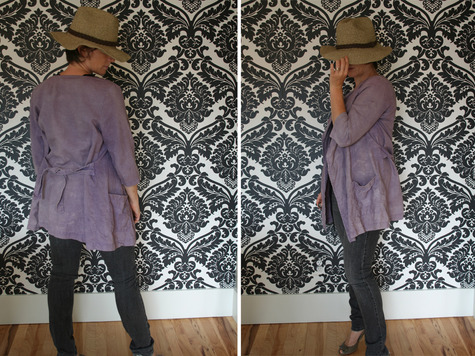 From Happy Homemade Vol.1 japanese pattern book
ISBN978-4-579-11242-5
I used some fabric from the natural dye class that I took end of last year. And even though the jacket doesn't look too bad on the photos – nicely styled with the sassy hat – but in reality it looks more like a scrub then a proper jacket. Part of it is surely the color. The dye I used is a Logwood exhaust of a prior dye batch with which I made this dress. I think I'll try to do some tie dying to 'save' the jacket. I am very inspired by Karen's post here but will need to think a bit more on how and with what I should actually overdye. Maybe tie it and overdye in a stronger Logwood dyebath and modify with Iron afterwards? Or simply use some synthetic black dye? We'll see what happens – I guess the whole natural dye cycle just started.
All in all though, if I had chosen a better, more interesting fabric, the jacket wouldn't be bad at all! blogged