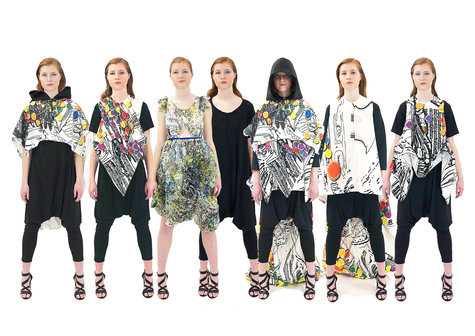 My thesis, The Digital Cage, was about taking the topic of internet overstimulation and discussing it using fashion/art wear. For more details on this project check out: https://www.jasongagnondesigns.com/graduate-thesis
This finale look was made using digitally printed polyester representing the eye tracking data of 12 college age participants. The fabric was then constructed into completely zero waste garments that stack on top of each other. The design process which was fun and challenging!
Browser Tabs features all four social media based garments layered to create the final look. The garments were cut so that they laid nicely on one another and provided areas of interest. They were also meant to make the final look seem weighted and heavy. The finale look is featured with the jumpsuit that was created for the collection.
The final picture shows all of the garments created for my thesis with the finale look in the center to show where they go in the end. It was a very challenging process and involved a lot of prototypes to create it.