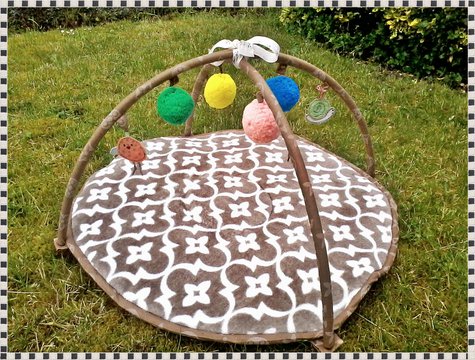 I started this project a while ago, back then i didn't know whether I'm having a boy or girl so I settled with neutral colours.
I was sitting my final law exams while 8 months pregnant so it was a bit of a rushed project at the end…I can't bend over or do much at all, feeling exhausted to my core.
However, I hope this give some ideas for mothers to be. Cheap and easy DIY project and something special considering everything is handmade with my baby in mind.
My son, Korben is due in 6 weeks. Hopefully he'll like it :)
For instructions, please visit this blog (not mine unfortunately)
http://thoughtsandthimbles.blogspot.ie/2012/10/frugal-baby-activity-gym-tutorial.html
Materials needed:
Two Dollar Tree Hula Hoops (mine were about 30" wide — the biggest size available) 1 yard of fabric for top (or you can make a pieced top) 1 yard of backing fabric 1 yard of interlining (batting, fleece, an old blanket, a few layers of flannel — this is the "cushy" layer, so use whatever you want.) 2 3/4 yards of bias binding (if making your own, cut strips that are 2" wide) Two strips of fabric to cover the hula hoops, 2 1/2" wide by 56" (for a hula hoop with a 1/2" diameter hoop); you can "piece" the strips lengthwise if you don't have a continuous 56" fabric strip, or want a patchwork look for your gym arches. Four 2 1/2" diameter circles of fabric that matches your hula hoop fabric. Four 4" square pieces of fabric that matches your mat. 68 inches (about 2 yards) of 1/2" ribbon — Eight 4 1/4" pieces, and one 23" piece (your ribbon width can vary slightly) Four size 20 diapering Snaps (these are sold at JoAnn Fabrics, along with the Snap press — use a coupon to get a great deal). If you don't want to buy a snap press, I'd suggest using some heavy duty snaps — not the sew-on kind. 8 toys to hang from the gym, either homemade or purchased.
Happy DIY-ing!