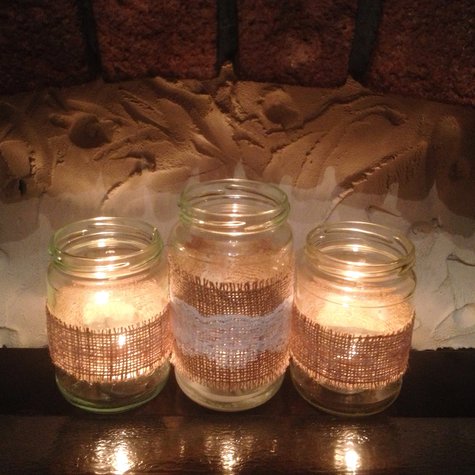 I've seriously falling in love with burlap at the moment and have so many projects in mind. These burlap and lace candle jars are my first one.
The jars were freebies, as I simply soaked the labels of some food jars and gave them a good clean (after eating all the food inside of course). I've just bought 5 metres of burlap, so I washed in one a standard 30 degrees cycle to try to get side of the smell of it (still there a little bit).
I cut a strip of burlap, making sure I followed the weave of the fabric by pulling one strand out and cutting where it had been. Then it was quite simply a matter of wrapping the fabric around the glass far, cutting to size and then gluing in place with fabric glue. I then wrapped the lace around, and again cut and glued it into place.
Such a simply project, but they look so lovely and warm with little candles in them on my fireplace. I think I may even use them as little vases next time I buy some fresh flowers.