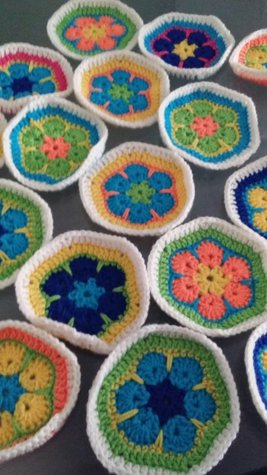 With summer almost at an end here in Melbourne I am looking forward to winter when I can snuggle up inside with the kids and pull out my big bag of wool and crochet hooks. I always have a project going in the winter, sometimes the same one carries over from one year to the next.
Crochet rugs are great as floor coverings as well as throws or blankets. The great thing about handmade rugs is that you can use up all your old scraps and create something really beautiful, a family heirloom which is functional as well as attractive and they really add a unique designer element to your home decor.
Rugs that are crocheted are usually hand washable, which is a big relief as you can clean them yourself regularly. This means you keep your home clean,and your family safe from dirt and germs. This also means you won't have to call in the professional carpet cleaners to take care of the mess. this is a big cost savings – you can spend the extra on more wool!
I am currently making a hexagonal rug from a pattern I found in a home decor magazine, but you can find free patterns and inspiration every where these days. You tube is invaluable for handy demonstrations and brushing up on your long forgotten skills or for learning new ones. I also have some granny square rugs the kids love to put over their knees when we go to the footy.
So what's stopping you, get our that bag of wool scraps and get creative!