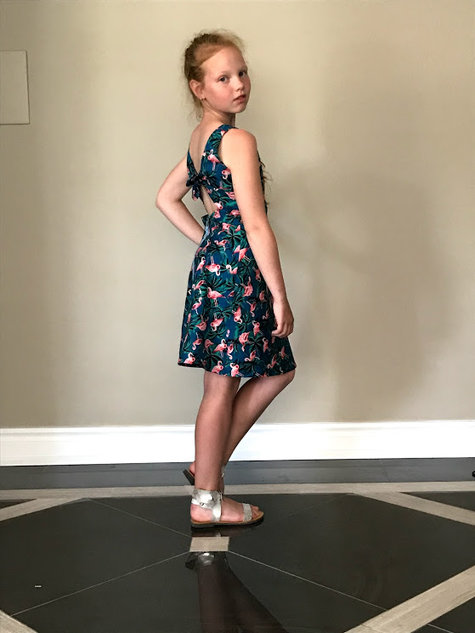 Well what can i say about this pattern?!I got in huuuge trouble with this one.Planned with my younger daughter this dress,she wanted flamingo.In our Fabricland couldn't find any flamingo print,we ordered from China,than waited for ever for the fabric to come.Than finally when it came,i started to sew.My baby was sooo excited,The dress was pretty easy to assemble,once i got the instruction.It took me about 3 hours.And than it was time to try it on…..Than the problem begun.It was huuuuuuge on my 8 y.o.,but fit perfectly for my 11 years old!!!!!
Now,if you have 2 daughters you would understand what i went through….yeap….My oldest extremely happy,flamingo fabric is out of the stock…,.,so imagine my baby's response….:((((((((
So ladies be aware.My 8 y.o. normally fits Burda 128.Without seam allowance.This one i also made 128 without seam allowance.And it fits my 11y.o. like a glove.