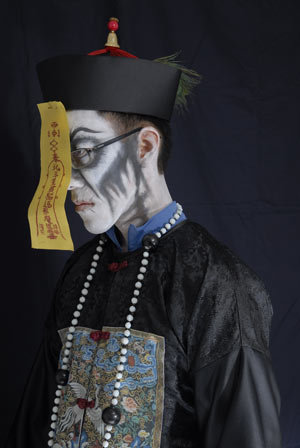 Made at bro's request for Halloween. All patterns made by me. This set consists of:
-outer robe in brocade, handmade frog closures, chest badges from iron on transfers
-arm sleeves in crepe back satin, silk and satin
-skirt in satin, lower section interfaced, striped polyester cut on the bias and matched to form chevron pattern
-hat interfaced with canvas and Flexi Firm, trimmed with feathers, beads, fringe
We used a mix of photos of Qing dynasty clothing and movie costumes for reference. I kind of cheated with the "under robe" which are just arm sleeves and skirt (as we were running out of time and materials :p).