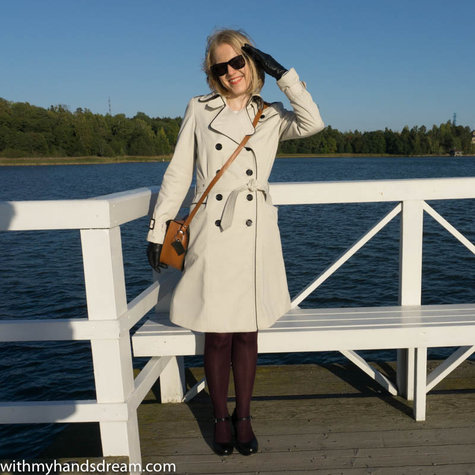 I started with McCall's #5525 and used it as a basis to draft myself a trench coat that I dreamed of.
I wrote a whole series of blog posts on all the alterations and modifications I made, but I try to summarize: I took in from two different positions at the back and from the front princess seams. I made the storm flap longer and the gun flap smaller. I widened the hem to add some extra flare to the coat and lifted the waist a bit. Oh, and made a sort of hollow chest adjustment to the front piece that kept on gaping. I also replaced the sleeves with a two-part sleeve from another coat pattern that I modified to fit the coat.
Furthermore, I added the all the complicated interfacings and hand-sewed couture hems. I added faux leather piping to the edges and gray cotton piping between the checked cotton lining and the facing. I also made a inner breast pocket and decorated the inside of the coat with hand-embroidered monogram. I lengthened the belts and added buckles and eyelets. I redesigned the pockets and made them into double welt pockets with flaps. I hid a keyring and a smaller inner pocket inside one of the big pockets to have place for both my keys and my travel card (for busses and trains).