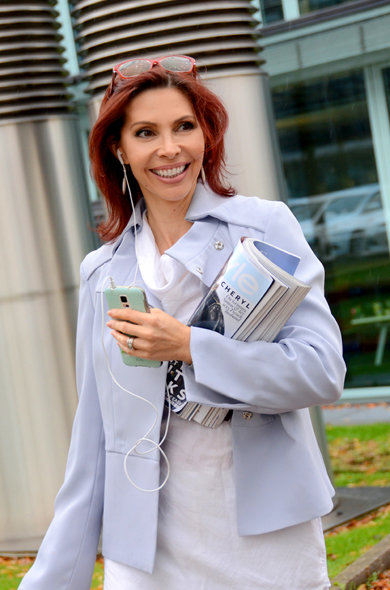 When you decide to sew a lined blazer, you have to take your time and really be in the mood for exact and proper sewing. At least for me this ist essential if I want to reach a satisfying result. On top of that, this blazer was super difficult because the fabric was so slippery it moved while sewing! I am not the "fishing for compliments"-type but somethimes you have to lay the facts down: this project was VERY difficult and I am pretty proud of it ;-) and this feels good! Don´t we women always have some difficulty when it comes to compliment ourselves? Give a woman a compliment and you will get back an immediate apology: "whow, you´ve got a great pair of trousers on!" woman: "oh thanks but I think they make me look fat. I have such a difficult shape that I barely can find a good pair"… why are we doing this? Why don´t we just say: "oh thank you I like them too and I think I look very good in them!" Nevertheless our emancipation we still have this uncertainty within us which we haven´t been able to shake off completely so far. But anyway, let´s get back to our blazer!
The pattern is once more from Burda. The magazine I got it from is a few years old. This time I wanted to get as close as possible to the original in the magazine, also what concerned the fabric. I mainly wear it for the Office, but combined with some bluejeans it works also for a shopping tour in the city. An allrounder in light blue, which is flattering on any skintone as it works like a highlighter to the face!
But what about the shooting!! A real sweet office colleague of mine was spontaneous enough to shoot me during lunchtime around our office buildings. It was the fastest Shooting ever!! two women, one lunchbreak, one camera. On top of that, it began to rain (you can see the Drops on my glasses :-)) but my pro-photographer was not impressed at all by all these circumstances and shooted quite a few top pics in no time!! So to pick up the subject once more, we just say: "Kalina, we did a damn good job here!!" And I don't want to miss the occasion to thank you soooo much for it!
So enjoy the pics, have my warmest greetings and don't forget to be proud of yourself and of what you're doing!
See you in my next post!!