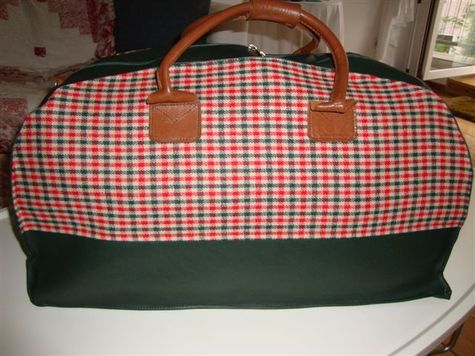 Last years christmas present for my husband has been a beautiful leather weekender-bag. As i allways wanted one too, i just took the last bits of my remaining wool fabric from my sherlock holmes outfit, bought a big piece of artificial leather in dark green and have been lucky enough to get an old and shabby bag from a friend (thank you so much Robert) that helped me with most of the nice looking accessories (handles, zippers etc).
The pattern has been created by me (and i am quite proud, as this is my first really complex pattern and it worked!)
The bag is big enough to hold a weeks luggage and i have lined it inside with dark green silk (with my monogram) and red velvet. (also to go with it two velvet shoebags in the same red color). there are many little pockets inside and outside (some secured with smaller zippers!) All the decorative stiches have been made with embroidery thread!
i only neede to buy the little silver feet (or whatever you would call the little metal-things to make the bag not stand directly on the ground)
to stabilze the bag, i have mad the bottom inside with two layers of thick cardboard!
i hope you like it!