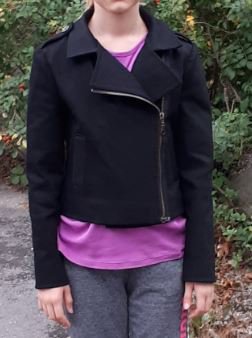 My daughter asked me to make a new denim jacket for her. The specs were that it must be black and not a traditional denim jacket pattern so I offered this pattern for her.
I have already made a sweatshirt hoodie out of this same magazine. The hoodie is the same pattern but it has welt pockets and naturally the collar is replaced with a hood.
The jacket was easier to construct than I expected. I omitted the lining and sewed cotton bias strip to the seam allowances to get neat inside. I also omitted the zippered pockets and made welt pockets from the hoodie pattern instead. I did not even need to make any fitting alterations.
Please notice that the pattern size is very small. My daughter is very slender, she is about 135 cm tall but her chest measurement meets the size 122 (US 7). I was planning to go with the width of size 134 (9) and take the sleeve and back length from size 140 (10) – that is a standard thing when I make clothes for her – but when I fitted the paper patterns for her it was totally too small! So I went with size 140 as it is. Please notice this if you are making this pattern for a normally built child.