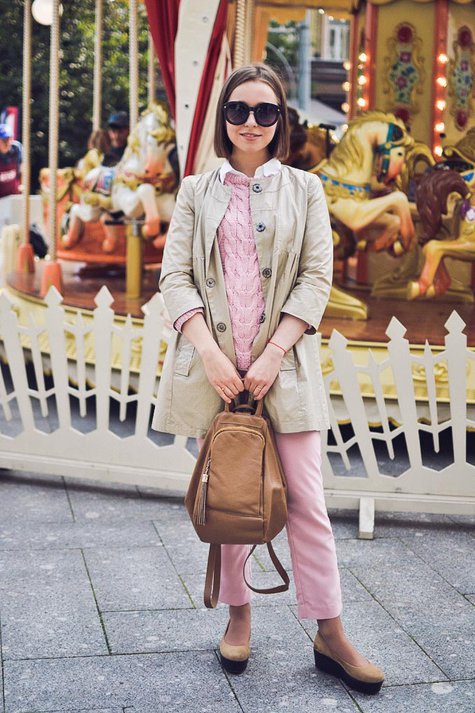 Good afternoon, fans of sewing!
The name speaks for itself. To this, I was pushed by the almost monotonous gamut of my outfit, which was preceded by a painful dilemma. I had to choose between a pink flamingo or a pink panther. But the love for the cat family was much stronger, so I chose the second option.
Now about the trousers themselves. I sewed these trousers for myself. The choice of colors was dictated by the trends of this season and my long-held desire to get pink trousers in my wardrobe. I chose a shortened model of trousers №122b long to the ankles from the magazine Burda 01/2013. In it, I was attracted by a simple cut without extra details and a zipper in the side seam. I did not make changes to the pattern. The belt was cut by a width of 3.5 cm, and at the bottom, along the sides, I added small incisions so that the pants were easier to wear. All the stages of tailoring you can see in this video and on my blog.
These photos were taken in early September, during the celebration of the City Day. On this occasion, the city dressed up: all the streets were colorfully decorated, in the squares were fairs and shows were smashed, and the gardens were decorated with bright flower beds and unusual exposures.
More photos of this project and used technique of sewing you can see in my blog www.stacyco.com. Link to the post in Credits. Thank you all for your attention and see you soon!
Instagram @stacycoblog
Blog www.stacyco.com
Youtube StacycoTV