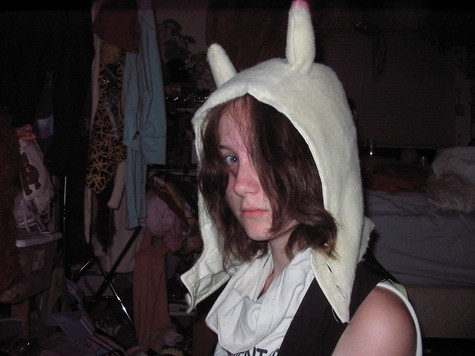 :D Before the movie came out, I was bored and lonely I guess, so I made a Max hat.
I always swear it's better than the one my best friend's half brother's* mother made for him, but she always disagrees.
It's the bestest fluffiest fur we could find, but that's not saying much (We only went to the lame local fabric store.)
It has lining. But I was so excited to make it. I put it on inside out.
There's also an uneven hem, but HEY
I WAS AN EXCITED KID
JEEZ
So, anyway. The lining is just muslin.
I wore it to school for a week or so straight.
I let everyone wear it
Except the people who were like "Eww, I will get infected and die"
Because they're no fun.
I HAVE AN IMMUNE SYSTEM, AND I PLAN TO USE IT!
…As you can tell, it's very late and I got my brains sucked out earlier. So, I think I will en-.