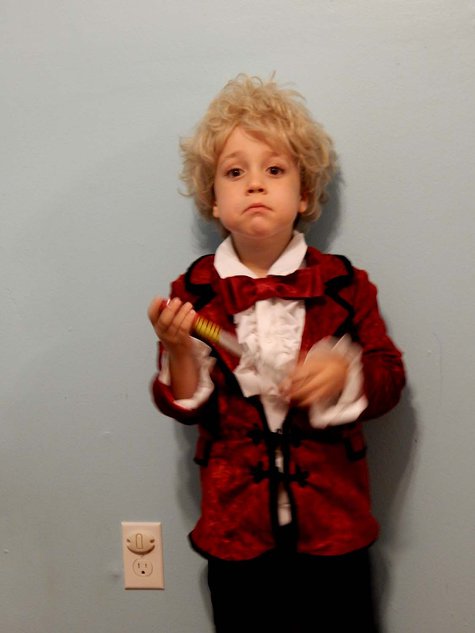 My son, in kindergarten, decided he wanted to be Doctor Who for Halloween. That's not so strange. He wanted to be the third doctor… OK, now we are getting strange. Ruffled shirt, smoking jacket, Inverness Cloak. I thought I could do this… or at least give it a try.
The ruffled shirt was by far the easiest bit. I scoured 3 thrift stores and found a boy's dress shirt perfect for altering with ruffles. I bought a man's dress shirt to source the material for the ruffles so they would be of similar fabric. I learned with much trial and error to use one of my 3 (yeah 3) Greist 5-stitch rufflers. That was fun.
The smoking Jacket is BurdaStyle 146 Boys Jacket, with liberties taken. Lessons learned: I'm keeping my copy of Vogue Sewing right next to my machine. The directions for welt pockets are much more understandable to me than trying to decipher the Burda directions without aid of pictures. I need visuals. Biggest lesson learned… NEVER EVER SUBSTITUTE PANNE VELVET for any thing. Second biggest lesson learned- take the time to do bias binding by hand. (Third lesson not related to sewing: find out if there will be paint-related activities at the Halloween party your child is attending)
Inverness Cloak- I drafted the pattern myself. if I were to do it again, I would pay more attention to the collar construction and I would extend the caplet a bit longer and a bit fuller in front.
My son expressed a desire for a bow tie as well, so that was of my own design. It was made from fabric salvaged from the silky side of a winter scarf.
The wig leaves a lot to be desired, but it worked for my son and that is what counts!