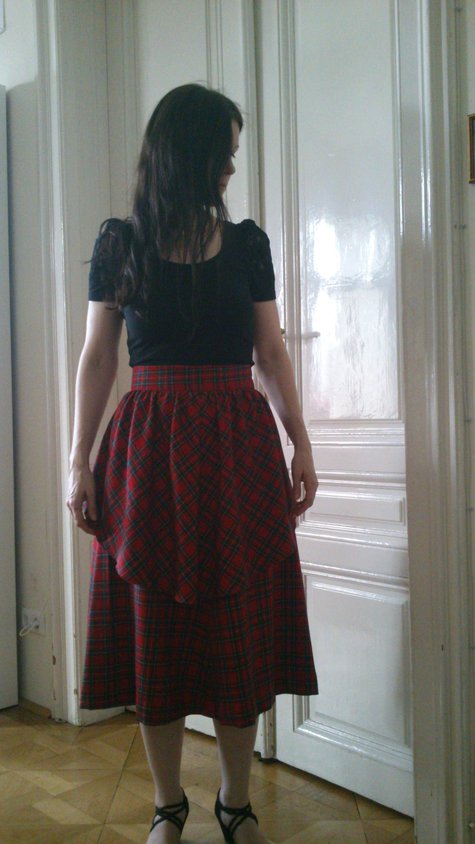 This skirt has a story. As soon as I baught Cloth Mag issue 15 – back in Februar 2013 (!), I wanted to make that skirt. But I knew I will have to make some progress with my sewing skills and make some other projects before. So, when I finally decided to tackle it last summer, I realized there was only a downscaled pattern in the magazine (50% of the real size). It was said that you can print-out the full-size pattern from the homepage, BUT since the mag has stopped being issued a longer time ago there was no operating homepage where I could download the full-size pattern. So what to do? I looked up in the Internet to find the full-size pattern, but couldn't find anything, I bought some copy paper to upscale the pattern, but I totally failed since the magazine didn't illustrate what the seam allowances were, if they were even included in the pattern or not, and what the measurements for each size were… Finally I realized that there's a designer's name mentioned in the magazine – Cassandra Belanger Macindoe. I found out she's running www.thestitcherystudio.com and so I was able to contact her directly. She was so nice and helpful to search for everything she had concerning that pattern and send me i.a. the full-size printable pattern and the Information on measurements and seam allowances I needed. I was very happy that it worked out, because I wanted so much to make that skirt.
Finally I started the project last January. With some months in between not finding any time to sew, I could only finish it yesterday. Uff!
Overall I am happy with the outcome. – And proud, since it is a plaid pattern which is quite tricky to sew, because you need to match the various pattern pieces. And the instructions weren't easy to understand in some parts. I also self-added the lining since the descriptions didn't foresee any. I oriented myself on a lined skirt I have in my wardrobe.
But as always, I am not totally happy. Do you have the same experience, things could always be nicer, and maybe: perfect? What's the cure for that perfection disease?! I'm thankful for any advice on that ;-)