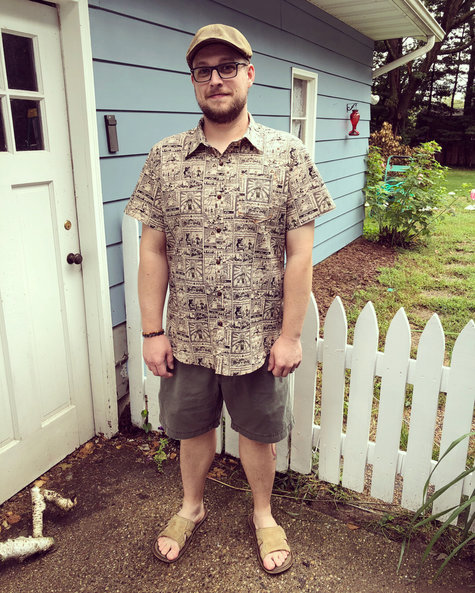 Recently I came across some Legend of Zelda fabric at a local fabric store. My partner, Kenny, is a huge fan of the game series and I thought I would make him a great shirt out of it. I also wanted to gift it to him as a huge thank you for being so supportive during college and grad school. I was always too busy making class projects that he never had anything made for him.
The shirt started as a menswear pattern (McCall's M6044) that I altered through a process of two muslin prototypes. It was nice to use a pattern after draping and flat patterning for my class projects. Biggest hurdle was adjusting the pattern to fit my partner who is broad and tall. The pattern's sleeves are HUGE so I had to shrink them for a more modern fit.
The shirt has a front pocket, buttons, and a narrow hem. I top stitched in an orange color to match the orange in the print.
Kenny loves his new shirt and it's fair to say that he will basically be living in it from here on out. And now that school is out I can make him other things. :)